I entered a contest over at Sassy Sanctuary to win a free mini blog design makeover- guess who won??
Me............... Yay, me!
I was so excited and Krystal was so easy to work with. We must have emailed each other 50 times with changes- she wasn't happy until I was happy. Love her.
She has everything from a Mini makeover to a Mega makeover.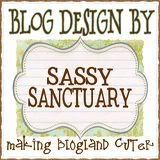 I can't thank her enough for what she has done with my blog. I get so happy when I read it.
Now with a click of a button you can follow me on facebook, twitter, pinterest, email me and grab a button.